Insurance Selling and Recruiting Blogs
Welcome:
Our free website is dedicated to helping entry level insurance agents , existing insurance agents and agency builders by sharing with them proven and tested  marketing ideas, selling techniques and agency building concepts to help them become more successful in their insurance career.
these newly published insurance selling and recruiting ideas are published once or twice a month. We will not overwhelm you with junk mail.
One can never have enough Mentors.

The author, Ted Wolk, having built a 150 person life agency in 7 years, with over 30 years of successful insurance recruiting, training, selling and marketing experience, will share many of his learned and proven selling and recruiting techniques with you, as well as newly discovered ideas. 

---
Like what you see, then lets keep in touch
Pick your  favorite social media  and automatically receive
all free selling and recruiting updates.   
---
Agency Building and Recruiting Ideas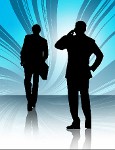 Recruiting Problems driving you crazy. Do you wish you had a proven and tested system to follow. If you are an agency manager, agency builder and insurance recruiter, see the enclosed agency building (PDF) memo from Ted Wolk. The information in this memo may provide you with some valuable ideas to help you with your recruiting problems as well as building your agency.
Right-click to read/download this PDF file.
---
Scroll down and view our latest articles and posts
from our readers
---
Overcoming Insurance Selling Objections
I just read your article on "Third Party Book To Overcome Insurance Selling Objections", and I couldn't agree with you more. When you have good (third Party) factual information simply explaining how your product is going to benefit your clients.
We have even written a short, simple to read book to help our partners who sell (or want to sell) IUL products. This book is full of factual information from many different valid sources. It has given our partners a great tool to use while they are sitting in front of their client.
Thanks for all you do.
Mike McCoy, Senior Marketing Consultant, Life & Annuity Masters. Simi, Ca