Closing Sales! - How to close on an objection?
We will always run into a insurance sales situation where someone gives us an objection after we ask them to buy. Its human nature and it is inevitable. It comes with the territory of selling insurance. Unfortunately most of the techniques you were taught are basic, while they fit a number of situations, they don't solve the problem for the biggest one, deferring and working with the actual objection.
However there is technique they don't teach you in school and it is called "Closing on Objection" What this technique does is allow you to use the reason someone does not want to buy as your closing tool. This technique helped me close many sales that I would never have been able to close. It takes some practice, but just like anything else, you have to start somewhere.
To learn more about this closing techniques take the time to review this article on Closing On The Objection
---

If you have not yet done so, please take a moment to complete a short survey about our Website I would greatly appreciate it. Your not signing up for anything. Thanking you in advance. We appreciate your support.

Sincerely;

Ted Wolk
---
I want to also wish everyone a Happy Thanksgiving. This is a time to help those in need. You can do so by buying someones groceries while standing in line at your store. If this insurance business has treated you well, then lets pay it forward this Holiday Season. Be safe.



---
Having a hard time with prospecting and finding sales leads, get my
Prospect or Die E-Book
---
If you are having a problem with closing, then check out our
Managing the Art of Closing a Sale e-book
---
And if you have not done so, stop by our
Insurance-agents-survival-store
See all the sales help e-books and agency building modules that are available. Send those links to your agency builders or agents. They will appreciate any help you can give them.

---
Now you can pick your favorite social channel to stay in touch with our website updates and get the latest new selling and recruiting ideas as soon as they are published.
A note to all new subscribers. Make sure to whitelist us on your e-mail account so that you receive all new publications, otherwise they may go into your junk folder.
---
Add our site to your mobile device. Just scan the Q.R. code below with your scanner.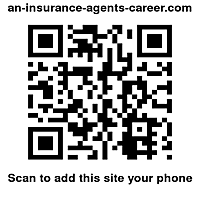 Please pass our site link on to others you know in the insurance business, they will greatly appreciate it.

Thanks for being part of our team. Have a great day.

Life is good.

Ted Wolk
---