Life Insurance Prospecting
---
If your in the life insurance sales business and you woke up this morning with no one to call and maybe one pending so so appointment, then you have a prospecting problem.

Insurance companies and their management team hired you as an agent for one primary reason, and that is to go and find people to sell their products to, while at the same time offering you an opportunity to create a wonderful financially stable lifestyle. So you must decide if you are going to take the time develop a success formula for generating leads and prospects for you to call, If not, then maybe it's time to evaluate whether you really want to be in this business or not.

Ask any successful agent. Basically you are building your own business from scratch. Just like any other entrepreneur, you need to develop your client base.

On the positive side, there is that old saying "You will be underpaid for your time and effort in your first 2 or 3 years, but if you do become successful, you will be overpaid the rest of your career."

For me, as time went on, I eventually learned 2 things. #1, this is a numbers game and #2, to understand all the different ways to create a successful prospecting program.

This lead me to put a number of different action plans in place to create a successful prospecting formula, eventually leading up to the point where I worked strictly off of referrals.

I have put together an article on who, what, when, where and how to develop a successful prospecting formula. Take the time to review these Life Insurance prospecting techniques..
---
Agency managers and recruiters love our
Insurance-Recruiters-Manual-and-Recruiting-Workbooks
Learn how to win. A fast track agency building program.
Have a great day and good selling.
Sincerely;
Ted Wolk, author and creator of www.an-insurance- agents-career.com
If you like our site, write us a short testimonial
---
A note to all new subscribers. Make sure to whitelist us on your e-mail account so that you receive all new publications, otherwise they may go into your junk folder.
---
Here Are Some Other Helpful Links.
---
Our most popular e-books
Check them out
---
Managing the Art of Closing a Sale e-book
---
---
---
And if you have not done so, stop by our
Insurance-agents-survival-store
See all the sales help e-books and agency building modules that are available. Send those links to your agency builders or agents. They will appreciate any help you can give them.

---
Now you can pick your favorite social channel to stay in touch with our website updates and get the latest new selling and recruiting ideas as soon as they are published.
---
Click the QR code to put our site on your phone or tablet.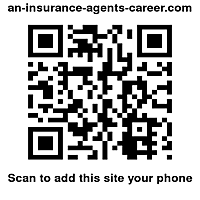 Please pass our site link on to others you know in the insurance business, they will greatly appreciate it.

Thanks for being part of our team. Have a great day.

Life is good.

Ted Wolk
---