Changing Your Bad Insurance Selling Habits
Bad habits sometimes are not even recognized by someone who is having a problem in a certain sales or marketing area.
As an example: I gave a talk to an agency via skype a couple weeks ago because the manager said the agents were having sales problems. I started out by asking the agents a series of questions:
Tell me what your closing ratio to interviews are.
What is your average size sale.
What is your best target market that sales are coming from?
How many phone calls do you need to make to set one appointment?
Amazingly, none of them had an answer or even knew what I was referring to.
This is where good record keeping comes into play.
Bad habits are sometimes the result of poor training or no training. In this case, we had to fix the book keeping problem before we could identify any bad habits.
Bad habits when it comes to prospecting, selling and being your own boss results in failure.
Bad habits during a phone call, presentation or closing will continue to provide a lower sales ratio.
So how do we fix bad habits. Number one of course, is a person has to recognize that they have a bad habit. In most cases salespeople know what they are.
As an example, an insurance agent who does not have enough new prospects to call everyday, or the agent who knows they are having a problem making phone calls. Sometimes it just getting yourself fired up and actually going to work.
To change any type of bad habit, will require a behavior modification in yourself. This requires a complete new mind set, along with an attitude adjustment.
One of the best methods I used and trained my agents to use was the use of a 3 X 5 card that I carried in my shirt pocket everyday. take a moment to read this article on changing your bad habits
---

If you have not yet done so, please take a moment to complete a few questions about our Website I would greatly appreciate it. Your not signing up for anything. Thanking you in advance. We appreciate your support.

Sincerely;

Ted Wolk





---
Having a hard time with prospecting and finding sales leads, get my
Prospect or Die E-Book
---
If you are having a problem with closing, then check out our
Managing the Art of Closing a Sale e-book
---
And if you have not done so, stop by our
Insurance-agents-survival-store
See all the sales help e-books and agency building modules that are available. Send those links to your agency builders or agents. They will appreciate any help you can give them.

---
Now you can pick your favorite social channel to stay in touch with our website updates and get the latest new selling and recruiting ideas as soon as they are published.
A note to all new subscribers. Make sure to whitelist us on your e-mail account so that you receive all new publications, otherwise they may go into your junk folder.
---
Add our site to your mobile device. Just scan the Q.R. code below with your scanner.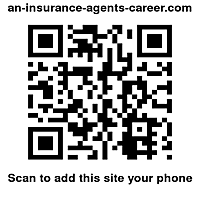 Please pass our site link on to others you know in the insurance business, they will greatly appreciate it.

Thanks for being part of our team. Have a great day.

Life is good.

Ted Wolk
---