Financial Planning Software Reviews
Financial Software Selling 
Every article on this website is like a mini-training school. use the nav bars on either side of this page to locate your area of interest or subject you need help with.
Financial advisors need to be able to educate their prospects or clients about their future financial
needs and the problems they may be facing.
---
NEW - free financial planning webinars for new and existing life insurance agents. 
How Best To Do That? 
By using a good third party graphics presentation, with easy to understand pictures and flow charts.  
You have heard it a over a hundred times, "a picture is worth a thousand words".
Financial planning programs provide a variety of presentations and/or options, so that you fit the presentation to the customers situation. As an example: social security benefits, retirement planning, ira tax funding, estate planning, etc.  

Remember KISS…("keep it simple stupid") That is why we must keep things simple. 
Once I found out how software selling tools made my life easier, as well as how it created an easy to understand graphic presentation for my prospects, It became my mainstay for the rest of my life insurance selling career. 
One good sale paid for the cost of this tool many times over. 
It helped me evolve into advanced markets like business and estate planning, by providing also providing a learning platform for me to become more knowledgeable.
These financial analysis software program provided a clean, simple, easy to understand graphic presentation which could immediately show the client what would happen if interest rates or inflation rates changed. With just the click of a button, the charts changed to reflect any type of "what if situation."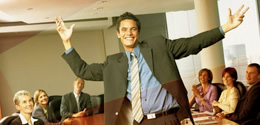 ---
Remember, we are selling money.
Understand that you are selling money. If you start selling life insurance,  you are in trouble.  You must convince yourself first, and secondly your client, that you are creating money.  Money that will be needed to fill a need or a gap.
The financial planning software I used,  was able to immediately show the prospect just about any type of change in money requirements using the what if scenario.

However, each agent will eventually find their success formula through trial and error. Even though these financial planning software programs could be done right in front of the client, there was many times I would never try to make a sale in that first interview. 
I would always gather up and enter as much information as possible from the prospects, and based on the answers they provided me in their confidential questionnaire and from the software work sheet,  I would then take that information back to my office and do a complete workup. I would then print out and prepare their presentation at my office and put it in a booklet form to be presented in a formal and professional manner to them. I would always have a plan A and a plan B. Give client a choice. Which one fits your current situation?
---
Selling Insurance Became Much Easier
Today's insurance agent and financial advisor/planner needs a one stop source for quality financial planning software that offers a full line of products. It is a must for agents trying to survive in today's competitive climate.
The degree of success you will enjoy is based on how well you can relate to people and make them understand and realize what their financial life actually consists of.  
I can not express in enough words how these types of software selling programs made my life easier and helped me lock in my clients and increased my persistency. Over time, it made it easier to work with my clients to add to their retirement, education fund, etc. 
As I previously mentioned I loved the fact that these financial planning software tools eventually helped me to tie everything together for the prospect, as well as tying him/her to me for the long run and more sales. 
The fantastic benefit of using Impact Technology software is that is hosted on their website. This means everything you enter is saved and protected for you in the event your computer should crash. It also means you can use any computer, anywhere by just entering your sign in information.  And that clients saved information can also be used in conjunction with any of the other software selling programs Impact offers. Another organizational time saver.
---
One of your most powerful allies to help you close a sale is the lady of the house. Also, when closing sales on single mothers you need to understand their thought process. 
If you want to learn how software selling helps those situations, as well as other selling methods on how to use insurance selling software, go to our 

software sales tips and power phrases 

 link to see how using this point of sale software can help you.   
*See how to get a free 14 day trial on all software programs
---
Learn and Earn