1https:///indexnow?url=url-changed&key= 8c38eeaaad64778b50d11b14157344f
Is Suze Orman, The Insurance Goddess, Always Right about Life insurance?
by Ted Wolk
(web site )

May 29th, 2010 at 9:41 pm

Is Suze Orman Right about Life insurance?

A personal observation from Ted Wolk. This is a copy of an e-mail I just sent to her website.

"Listening to Suze the insurance goddess, it always appears the Term insurance is the only answer to every persons situation when they call in.

Suze Oram, you are an uninformed individual. Some of the advice you offer is as bad as anything I have ever observed. You make decisions based on inadequate data. Snap decisions when it comes to dealing with peoples lives is a very bad way to do business.

I would love to debate you on your show on a one on one basis.

I just watched your comments on telling this lady in Ct. to cash out her insurance policies immediately and buy term insurance.

You just done them a big disservice that will cost them a lot of money.

I have yet heard you talk to people about taking a paid up insurance policy to maintain their existing cash value and not loose money to future surrender charges. Additionally, they may have been able to take a paid up policy for $200,000 to $300,000 and this would have reduced the amount of term insurance they would need to buy.

Also, you operate under a concept that does not apply to the money behavior patterns of 95% of the people that buy and own life insurance.

I think you need to get your facts right before shooting from the hip.

I would love to do an analysis to these people to show them how you just screwed them out of about $20,000."

Ted Wolk

Monthly Newsletter Free
Please add me to your
e-mail list so I can receive all new updates on selling and recruiting. See all back issues
---
Total Hits On Our Website
---
Follow Us 
---
Our most popular Self Help e-books
Exclusive to our readers

Introduction to Agency Building. An e-book for entry level managers

More free resources and helpful selling tools

Free Selling and Recruiting Ideas located in our Video Library .

Selling requires strict discipline. Click here for five (5) free behavior management coaching videos from Bob Davies.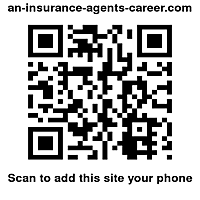 QR Code for an-insurance-agents-career.com