Referrals and Retention

Every article on this website is like a mini-training school. use the nav bars on either side of this page to locate your area of interest or subject you need help with.
Building your life insurance business
Referrals and Retention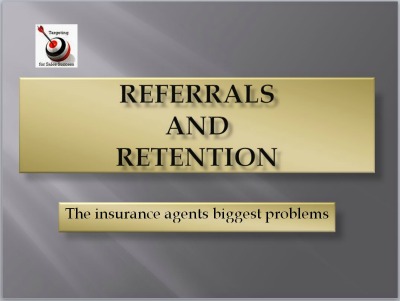 Want help with referrals and retention and Renewals.  
As we've discussed on this website for y

ears, referrals are the best source of leads.  
Secondly, effective relationship building is the key to turning a new client into at least SIX future policy sales.
This is where most inexperienced agents drop the ball and don't know how to maintain that career momentum. How much would you pay to get six more future sales? 



Don't take this part of your business for granted. Relationship building 

is what creates the longevity of your insurance career.


do you want to become 

their 

insurance agent, or  

just 

another insurance agent to your clients.



It is a known fact that agents who do not invest in their business or themselves will fail. just as any other business, you must learn how to build your brand.

  
---
---
Understanding the significance of this concept.
Building your Brand:
Early on in my career, I learned through a seminar I attended, that to be successful, you need to do something different to separate yourself from the rest of the insurance agents that your competing with.

I took that advice and built my own relationship building system for my clients by using quarterly financial planning seminars and appreciation dinners, as well as other client relationship building ideas.
This referral and retention client relationship building concepts we talk about on our website have one main purpose and that is the separate yourself from the competition and help you build your brand. It can also be a powerful recruiting tool if your in agency building.
We've also discussed the importance of efficient use of your time under our getting organized section and how to maximize your time. 

---
---