Insurance Selling and Relationship Building
Insurance selling and relationship building skills
Every article on this website is like a mini-training school. use the nav bars on either side of this page to locate your area of interest or subject you need help with.
You can either be Their insurance agent or just another insurance agent. People like to do business with
people who make them feel comfortable.
Do you have that skill?

---
This is the most neglected  and overlooked area in building future business and growing your insurance business. Click picture to learn more on how you can get referrals and up to 6 future sales from your clients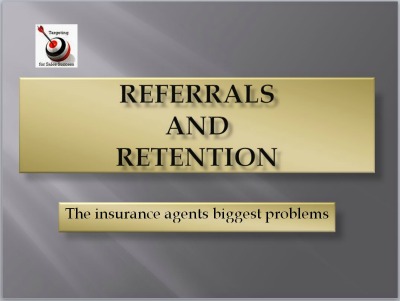 You can either be their insurance agent or just another insurance agent. Understand how Annual Reviews are the most neglected and overlooked area in building future business and growing your insurance business
---
Understanding Why - Case History
As a new agent i made it a point to always have an annual interview with my clients. early on, I was sitting down with what I thought was a good client that I thought I had bonded with. One of my  first questions I always asked was "has anything changed since the last time I seen you" His response set me back on my Heels. "he said, well we bought a mortgage insurance policy from some insurance guy who called us."
This is when I realized what the phrase meant about "being their insurance agent or just another insurance agent." I needed to keep my name in front of them more than once a year and start doing a better job at communicating what services I provide.
Your client bonding is the key to your future long term success in the insurance business. Learn how 150 good clients can take care of you for the rest of your life.    
---
Overview
Insurance selling and relationship building skills are on top of the list of one of the most valuable people skills you can learn. 
I always believed relationship building is the building of a rapport, becoming a friend, a helper, a buddy. Just being you and being honest and upfront. Start building a trust. Relationship building starts when you walk in the prospects door and take off your shoes to show them that you respect their house.
Believe it or not, people also like to do business with friends, so you have to make them your friend in that first 10 to 15 minutes of the interview.
Insurance selling and relationship building skills is one of the many facets you must learn and use during the sales process. As an example during the interview, telling people how you will help them, what you can do for them, how you have helped other people like them. It is the forming of a bond and is a critical part of your future business relationship with that prospect/client. Learning the art of relationship building and selling yourself are two important aspects of developing and keeping clients.
---
Here is one of my best kept secrets for relationship building.

Here is an insurance selling tip and an example of one of the techniques I used to help me in relationship building.
As soon as I left an interview I would enter on my prospect card or on my computer some specific footnotes about that client or prospect for future reference.
During the interview, they may have been excited and talked about one of their children's sporting events or they were going on a trip to Disneyland.
By making these little footnotes to myself, I was able to refer back to these notes and when I called back next month or during my annual interview, I would bring up that issue about their son or daughter or their trip. You would be surprised how impressed they were with me for remembering, and they were appreciative that I remembered, and thought I had a fantastic memory.
In today's culture and information world, anything you can do that will make you different and separate you from all the other agents will help you in selling life insurance.
Remember, build relationships and sell yourself. "People like to do business with a friend, someone they are comfortable with." Not a salesperson.
Practice and work on your Insurance selling and relationship building skills.

Keep in mind that selling life insurance is not a spectator sport. There is only one report card at the end of the month, and that is how many sales did you make?
I hope that this article on insurance selling and relationship building skills will help you become more aware of how important this selling skill can impact your future insurance sales career.

---
Selling Yourself

When selling yourself, you need to do this in the early part of the interview. Put together a short resume that you can leave with the people. Don't verbally overdue talking about yourself when talking to client. Talk about how you helped other people and keep it brief. (maximum 5 minutes)

Look into yourself and find a real honest reason that you want to tell people upfront as to why you should be their agent and what it is you really want to do to help them. They will sense honesty and sincerity. They will also sense someone who is just trying to sell them something.

When i first started, i use to tell people "one of the reasons I came into the business is because of the experiences i had with insurance agents coming into my home early on when I was first married. It seems like they were always tying to sell me something I did not understand or fit my situation. So what i want to do with you, is to make sure that does not happen."
What i would like to do before I share any ideas with you is get some information from you using my confidential questionnaire. This will help you get a clearer understanding of the type of work I do and it will also help me better understand your goals in life, so we can see if there is anyway I can honestly help you.

Just like anything else, it takes time and practice to develop all the skills needed to sell life insurance. This is just another insurance selling skill a person needs to work on. It pays off in the long run.
---
Learn and Earn
---