getting organized to make phone calls.
Setting Phone Appointments

Organizing your calling station - 104
Every article on this website is like a mini-training school. use the nav bars on either side of this page to locate your area of interest or subject you need help with.
This mini session is aimed at helping you set up your desk or work station for maximum calling efficiency?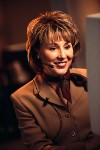 Using the phone to set appointments
---
Setting phone appointments and making phone calls requires the organizing of your desk or work station, so that you can operate at maximum efficiency and be more effective.
Most insurance agents, unfortunately do this in a ad hoc manner.
In other words they don't have a efficient system in place.

Efficiency means being able to make as many phone calls as possible and effective means getting as many people to agree to an appointment during that calling session.

The two work hand in hand. By making more phone calls, you increase your chance of setting more appointments.

Lets establish some important work station habits.
First off, you need to establish a quiet place or work station that you will be calling from.
Then you need to establish the same blocks of time every week for maximum efficiency. This does not mean you can not do calling at other times. In my case I found that the best time to call was on Sunday evenings when people were home and relaxed. Also, I did not want to waste a Monday evening calling when I should be out selling. The weekday hours between 6 pm and 9 pm are called  golden hours.
Next, if your a new insurance agent, you need to have a telephone prompter as well as a answer to objections prompter. Your company should provide these, and you should use them till you are comfortable to make calls without them. If you do not have them, feel free to contact us and we will see if we can help you.

---
When setting phone appointments, here are the tools you need and
how your desk should be set up.
You should have on your desk the following:
Prospect box with names or computer
Your telephone prompters
Couple pencils and pen 
Your 3 x 5 cards or list of names and phone numbers that you plan on calling.

Your referred lead cards you plan on calling in this session..
Appointment reminder cards you will fill out right after you set an appointment.
Your weekly planner, with blocked times so you can see immediately what times are open.
---
Now it it time to start making those cold calls.
When i got ready to start calling and setting phone appointments, I would have all my completed  3" X 5" prospect cards and my referred lead cards laying on my desk in front of me and ready to go. You don't want to waste time.
Today, many agents use their computers with the names on the computer,
however the concept is still is the same.
Just establish a system and follow it, whether using a computer or card files. You need to have each name in its own index file similar to a card format.

Now that I have my workstation set up and all my prospect cards to call, I need to get into the proper mindset.

Once I started calling, I would go through each card or name. I would start with my icebreaker names as explained in the proper mindset link above.
If no one answered, I would just move that card or name to the bottom of the names or the pile of index cards, so i could re-call any non-contacts when I  completed the first go a-round of calling.
Sometimes, a child answers and may say,  my folks will be back in about 15 minutes, or you get an answering machine.
So we now realize that during the process of setting phone appointments and making phone calls you will run into the following situations:

The prospect answered the phone
The prospects wife of kids answered
The answer machine picked up
You got  a busy signal
No one answered
once you start dialing, you want to keep on calling and dialing and if you are calling as fast as you can, you don't want to be stopping to write down long notes or even try to remember who answered or who you talked to.
during my phone calling sessions, I decided that i needed some type of shortcut to make me more efficient. So I ended up creating a simple coding system to eliminate writing notes after each no-contact call. These shortcut were a form of symbols I used so that i did not have to write things down or try to remember what happen when I dialed a no-contact card. Here are some of the issues you must deal with when making a large number of phone calls in a short period of time.

What happen when you called that prospects number
Did you talk to some one or not.  
Who did you talk to

Why do you need a simple coding system?
Because after about 10 or more  phone calls and conversations, things start to blend together and start to get foggy. you can not remember who said what, and who said to call back, or whether you made contact with someone or not.

So in our next upcoming articles on setting phone appointments, we will be discussing how a simple coding system can make things easier so that you do not have to do a lot of writing.
Of course if you did talk to someone and set an appointment, you moved that name into your appointment set file, and will be sending them an appointment reminder card.
Learn and Earn
---