Life Insurance Selling Systems

The Art of Closing a Sale
Every article on this website is like a mini-training school. use the nav bars on either side of this page to locate your area of interest or subject you need help with.
There are many different selling systems. But the bottom line is, you have to close the sale.
Life Insurance Selling Systems! Here is one of the best.

Below is an outline of the front page, of the client interview questionnaire. By refining this fact finding questionnaire and asking questions upfront, I found out that an agent could minimize objections at closing and eliminate a number of other objections during the interview process.
Discover how to use this life insurance selling systems questionnaire to help you get more detailed client information in the interview process.
Click here to view the confidential questionnaire in a pdf format.
Below is a rough outline if you do not have a PDF program.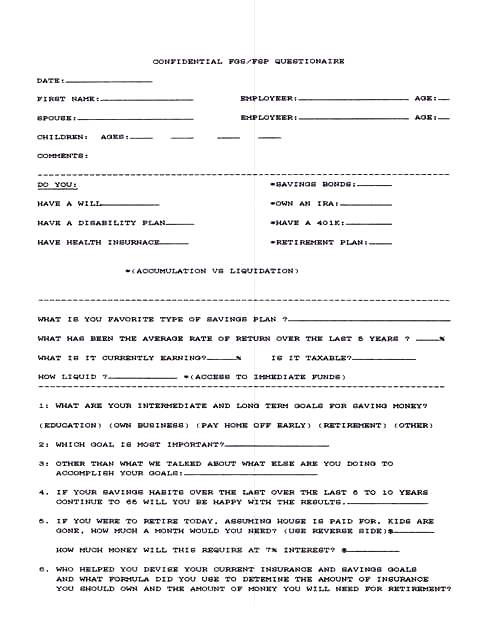 One of the best closing techniques I have came across to close a sale is the closing pyramid concept?
How can it help you close more sales?
Go to the explanation page on how to use the closing pyramid concept.
Learn and Earn
Home Page

›
Confidential Questionaire
›
Life insurance selling systems