Behavior Management Techniques for
Insurance Agents

Every article on this website is like a mini-training school. use the nav bars on either side of this page to locate your area of interest or subject you need help with.
Think about what Bob shared with you in the first 4 videos!
"Can it be your behavior pattern that is impacting your insurance sales?"


Since you have made it to this page, it says something about you.
It says Yes, I want to get better at what I do.
It says, I think I have a problem thats needs fixing.
It says I want to be successful
Due to the fact that video number 5 is no longer active, click this link for more free information on behavior management.
---
You can also help someone else by sharing these videos with other people whether in the insurance business or not.

If you learn nothing more from watching these videos, it should give you some insight and clarity as to what may be your biggest detriment to being successful and reaching your goals.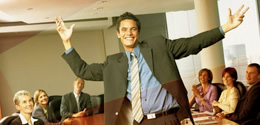 Return back to the  Bob Davies coaching library.