Insurance Selling Systems
And Closing Skills
Learn To Listen to Prospect
Every article on this website is like a mini-training school. use the nav bars on either side of this page to locate your area of interest or subject you need help with.
Close More Sales by Learning how to Listen. Learn these Insurance selling skills and closing techniques 
insurance selling systems are made up of several steps, especially when it comes to closing the sale. This topic page will share with you what I consider the three most important aspects of closing any life insurance sale.
They include the following systems and closing techniques
use of the closing pyramid concept
using the confidential questionnaire
setting the theme

as well as the process of starting to get the client to say YES during the presentation.
---

Insurance Selling Systems And Closing Skills
So if you are looking for ideas to help you close life insurance sales, then plan on spending some serious time to read and absorb this insurance selling systems topic page. You will never get better at what you do, unless you take the time to read and study.
More on using systems to manage an agency or manage yourself.
---
These insurance closing concepts and closing techniques we are about to discuss are very important insurance selling skills.
They are proven and tested techniques that have been learned from over 30 years of selling experience, working with over a thousand agents. However, if your looking for a quick fix on closing insurance sales, there is none. It takes experience, patience and practice. So let's share some experience with you.
As I have emphasized in my closing pyramid concept video and prior articles on closing, you absolutely need to spend 50% to 75% of your time asking questions and listening to the prospect before you start your presentation. This is the only way to find out what people want and what it is you can do to help them. Learning this will help you increase your life insurance sales closing ratio. This also help you establish your professionalism.
---
---
Closing technique, step # 1 -
listening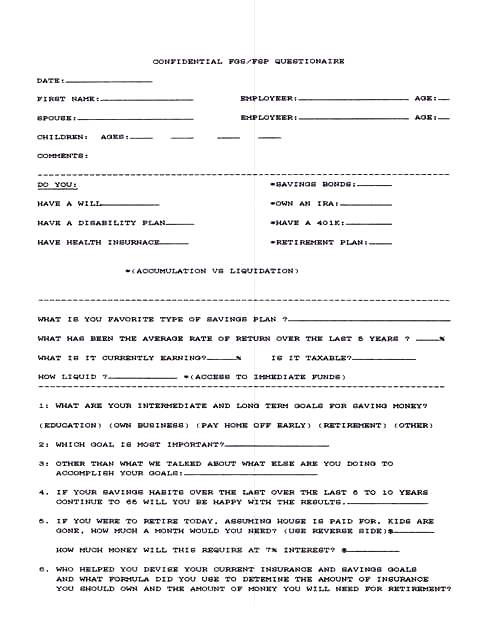 Using the Client Interview Fact Finding Questionnaire will increase your closing ratios
Using the Client Interview Questionnaire is one part of the insurance selling systems that can add to your selling skills:
(Learn to Listen) to what the prospect says in the questionnaire stage. Define their wants and needs. Ask closing questions right up front. Learn to use this confidential questionnaire or something like it to qualify and close your prospect upfront.
Additionally, if you have a financial plan built for yourself, (not just a Life insurance policy) share that concept with them. Give them a visual to look at.. Use your relationship building skills.
---
Closing technique, step # 2
-
Establishing the theme
Another part of your insurance selling systems is establishing the theme and taking the time to discover what they want in life (Doing this will establish the theme of your presentation)
then you start to go through your product presentation by showing the prospect and explaining to them how your products benefits and features will take care of the wants and needs you have uncovered.
Learn to use some of these insurance selling tips. And most importantly, you start getting them to agree with you all through out the presentation. Start asking simple questions during the presentation that will start generating a series of YES answers as you go along. By doing this, it makes it easier for them to say YES in the end, when you present the closing question.
"Can you see how this concept/idea if initiated will benefit you and your family?"
"Can you see how this idea will make sure your children have a Mom to stay at home to take of them."
"Can you see how this can accomplish your goals to replace money for your family",
"Can you see how his concept/idea will help your children go to college?"
"Can you see how this idea will let your family stay in their home if you die? If policy is on wife),
"Can you see how this concept can provide you with baby sitter and day care money if you loose your wife, etc, etc".
You will note that I use the word concept or ideas instead of an insurance policy. People do not want to buy an insurance policy, but they will buy into ideas and concepts. Until you understand this philosophy you will continue to struggle with closing any type of an insurance sale.
---
Closing technique, step # 3
:
The Close
If you followed the theme of the closing pyramid concept which is spending 70% of your time asking question and listening, 25% of your time making the presentation, then in the end, you should now only spend about 5% of your time closing.
Why only 5% of your time? Because if you properly went through the confidential questionnaire properly, you and the prospect should have already agreed upfront about their wants and needs, and determined if they can set money aside and do something about it today.
At this point, you only need to negotiate on which life insurance concept best fits the situation, based on what they can afford.
Closing is getting a series of small yes's to questions you ask during your presentation. You should never have to ask a blunt impersonal question like - "Do you want to buy this?" Can we get this policy started today?
In the end, it should be a smooth transition, such as:
"Mr. Prospect, does this concept make sense to you?
He should always say YES if you done your presentation properly.
"Can you see how these features we discussed would benefit you and your family and help accomplish the goals we talked about?" He says YES
Then close with a couple of questions that require an answer to a simple question.
---
Sample closing questions

- getting a yes

Can you see how this will help you accomplish one or all of the financial goals we talked about? "another YES"
Mr./Mrs. Prospect do you like this idea/concept that I just shared with you? "They should say YES again"
Mr. /Mrs. Prospect, you indicated to me in the beginning that you could set aside $75 to $100 per month if you liked what you see.
Would it be more convenient to make annual deposits or monthly deposits?" (choice question)
We can set it up so that we can transfer money from your checking or savings account on a monthly basis into your account, that our company sets up for you.
And when the program comes back I will sit down again with you and go through it more detail to make sure you are 100% clear on how everything works.
Do you want to start plan A or plan B. (This could be a universal life insurance policy or a combination of term and universal life insurance, term and whole life.)
---
---
And finally - always offer a choice.

When closing always offer a Plan A or a Plan B.
Never close using a closed end question, such as do you want to start this policy? If they say NO, where do you go from there.
At this point you transition into filling out your application. Mr Prospect if you were to die prematurely, who would you want to receive these proceeds/money?
And when ever an objection continues, the you need to close on the objection.

If the requirement and money commitment looks like a sizable life insurance sale, and you are using a financial planning analysis concept, then I would get the money commitment, and tell them that I want to take all this information back to my office, and take some serious time to work out some ideas and then come back and share with them some options best suited for what we discussed.
I would then reset the second interview within a week, so that things are still remembered.
I hope this mini-training session on Insurance selling systems and closing techniques will help you close more sales.

Have a Happy day - Life is good
Learn and Earn

---